I finally had a chance to shoot with my new D800 on Tuesday. (I decided to delay travel into the night so I could have some daylight.)  I was just glancing at some of the pics while on a call and found one that illustrates some characteristics of the D800.  I'll post more next time about my general impressions of the camera, but this pic will answer a couple of important questions – at least for me.
This is a (female or juvenile) Black-Throated Green Warbler: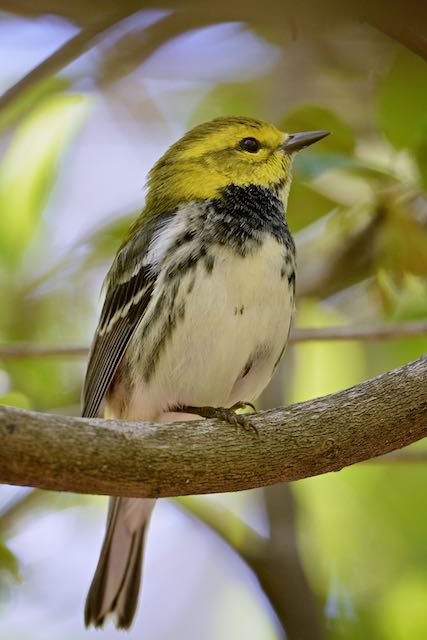 The technical details are:
JPG – Fine – L, FX crop (36.2MP).  300mm/2.8 AF-S VR, TC-20E III (600mm), F11, 1/200, ISO 3200, Distance 7.25'
LE NR – Norm, Picture Control – Standard, Active D-Lighting – Auto, JPG Comp. – Optimal Quality
Processing in Aperture:  Mild sharpening, added Definition and Vibrancy, slight White Balance, Exposure +0.5
There are two important things to notice here.  First is the incredible detail possible with this body.  The Warbler was quite gregarious and often came closer to me than I could focus!  I had to keep moving away from her, and had to switch from DX (my default birding configuration) to FX to fit her in the frame.  (What a great option to have available vs. the D300!)  BTW, the DOF at that distance is about 0.2", or less than a quarter of an inch.  Check out the area around the eye.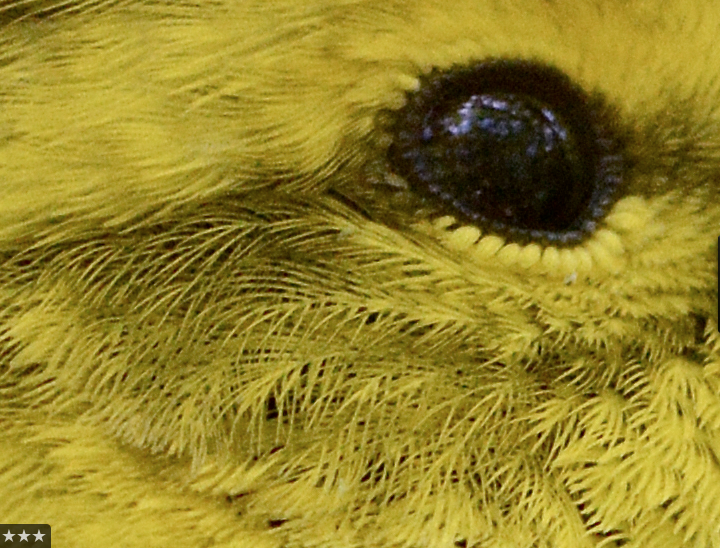 Screen grab of 100% view in Aperture.
Another note:  The 300/2.8 VR I w/TC-20E III would not be considered a super sharp combination.  After realizing how poor it is wide open (F/5.6), I've started shooting at F/11 to at least get acceptable sharpness.  Still it's nothing close to the 500/4 (on my wish list) or the 600/4.  Bottom line, this is not the best you can get out of the D800!
Second, notice the noise.  This is an ISO 3200 shot, with exposure pushed another 1/2 stop in post!  There was no noise reduction except for what may have been done in camera.  (Not sure if there was any…)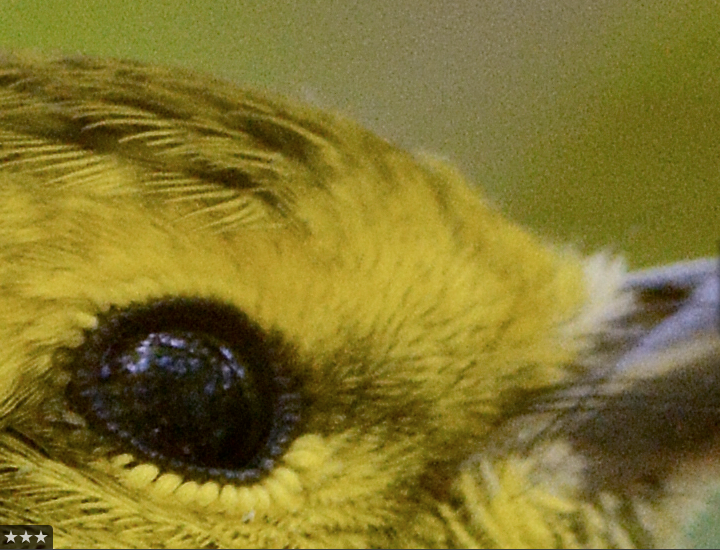 This is much cleaner than my D300 at 1600, and as good or better than my D700 at 3200!  Wow!  I may have found a replacement for both.  Unfortunately, that means I'll likely end up buying another one so I can continue to have two bodies.
As I said, I'll try to do another post ASAP to present other thoughts about the D800, including overall feel, battery life, frame rate, focusing speed, controls, and accessory costs.