I've read a number of authors suggest the idea of using your automobile as a simple and effective blind for wildlife photography and I've gotten some shots I would have otherwise missed by doing it. The other day I learned that the idea is not without its own problems.
I was in Florida with only a little extra time before a flight and I was trying to grab a few shots of the incredibly numerous and varied birds there. It was therefore not only a handy form of camouflage, but also a practical necessity for me to stay in my car for some of the shots.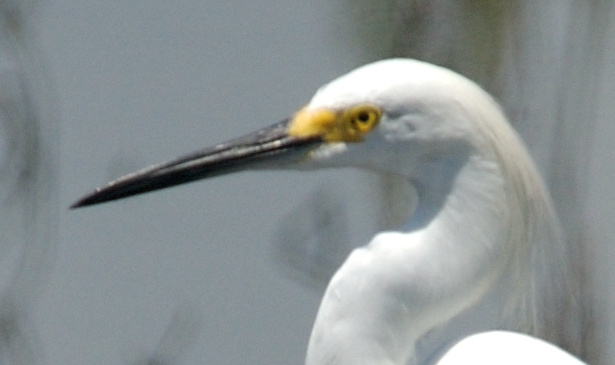 Here's a 100% view of the full-frame Snowy Egret shot on top. It was my first shot after I pulled up to this spot so I was just grabbing something in case it spooked. The framing was poor and the highlights blown out, but it also wasn't sharp. I was shooting RAW so I wasn't too concerned about the highlights, and I was going to shoot some more to get the framing better, but I just couldn't get the thing sharp. In fact it got worse and worse!!!
Eight shots later, here's what I got (no adjustments of any kind on any photo on this page). I was rubbing my eyes trying to figure out why stuff was coming in and out of focus without me even touching my camera!
A great feature of shooting from within a car is the ease of finding sturdy stuff to rest your arms on, so I didn't think I was having a camera shake problem. Seeing that my shutter speed was 1/3000 of a second, I knew that wasn't the case, even at 500mm. And this wasn't the look of camera motion.
I finally pulled back from the camera and looked at the scene. The whole thing was shimmering! The heat from the car was rising up right by the window I was shooting out of and ruining the view. That was then magnified by the lens. Because of the direction of the mild breeze I could have been shooting out of the passenger side and never had a problem. But on my side of the car, boy was it a problem!
So from then on I have kept in mind another consideration when shooting from the car. If the wind is blowing from the front or opposite side of the car, I need to get out to shoot or else the sharpness will be suboptimal.